Orange launched in 1993 and became one of the biggest mobile networks in the UK, up until it was acquired by France Télécom in 2000. The French communications giant loved the Orange phone contracts in particular and the Orange brand in general so much that it adopted the brand for its other communications operations around the globe. Back on home soil, Orange UK joined forces with T-Mobile to form the EE Network in 2010, which was then subsequently sold to BT in 2015 to come full circle on its mobile operator merry go round tour.
Customers shopping for the best mobile contracts in Orange's heyday would have likely visited one of the company's many high street retail outlets, which were rebranded as EE following the merger with T Mobile. There they would find some of the best modern handsets on the market, which in 1994 would have translated as the phone of the day, the Nokia 232. If Orange were around today it would mean the latest iPhone or top of the range Samsung, which of course are both staples in EE's product catalogue. In this day and age you are more likely to search for monthly plans and pay as you go sims online rather than trudge around to a retail park, with the added benefit of having your shiny new handset (or sim) delivered to your door without having to even look at your shoes.
Thanks to its seminal Orange Wednesday promotion that ran from 2003 all the way up until 2015, no cinema goers who weren't on Orange mobile deals wanted to go to see the latest Zac Effron flick on a Wednesday. Or any other film for that matter. The promotion was massive, and allowed Orange to boost its awareness by playing Orange Wednesday adverts before the biggest blockbusters of the era while it boosted weekday cinema audiences along with it. No surprises to learn that the campaign was a major feature of Orange monthly packages and pitched Orange directly up against O2, whose Priority Rewards Campaign outlasted Orange as a network operator in the UK.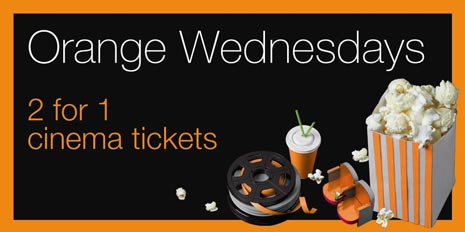 Aside from being indelibly linked to two for one cinema tickets in the hearts and souls of a generation, Orange phone contracts also broke the mould when it came to how mobile operators promoted their services. O2's Priority Rewards scheme may have outlasted Orange as an operator in the UK, but it only came about in a bid to compete with Orange's domination of the network. The Orange Wednesday promotion became entrenched in the psyche of the nation, but not only because it gave customers access to free cinema tickets. The Orange network had excellent network coverage, with the exception of some parts of rural Wales, to back up it's tempting promotions. Fast forward to the EE network and Orange's strong foundations can be seen, with EE boasting the biggest network and the fastest mobile operator to offer 5G phone packages thanks to its dedication to rolling out the 5G network around the UK.
Orange Pay Monthly Tariffs
Orange offer monthly contracts of either 18 or 24 months, either with or without a handset (SIM Only). Orange Pay Monthly contracts are separated into categories characterised by animals that represent different types of users.
Phone Included
Contracts including a phone from Orange are separated into four categories: Dolphin, Panther, Canary and Racoon.
'Dolphin' contracts are focused on texting and internet access. Most Dolphin contracts include unlimited texts and an internet data allowance.
'Panther' contracts are 'all-rounder' contracts, with each deal offering unlimited texts, a minutes allowance, internet, push email and Wi-Fi access through BT's OpenZone. Panther plans also include either 1 or 2 Orange 'Swapables' to add extra media services. 
'Canary' contracts focus on a balance between free minutes and texts and do not include internet or MMS features as standard.
Finally, 'Racoon' contracts offer free minutes and unlimited anytime calls to UK landlines. Like Canary contracts, Racoon contracts do not feature any internet or MMS features as standard.
18 month contracts are also available in all 4 categories and typically cost around £5 per month more than an equivalent 24 month contract. All Orange Pay Monthly contracts can also be customised with a wide range of Extras, from international calls to picture messages.
Orange SIM Only Tariffs
SIM only contracts from Orange are separated into 5 main categories based on the types of benefits they offer, Canary, Camel, Panther, iPhone and Dolphin. Most SIM only deals from Orange are offered as either 1 month rolling contracts or 12 month contracts, with 12 month contracts generally around £5 cheaper than 1 month equivalents.
All Canary contracts include unlimited texts along with a monthly allowance of free minutes. Dolphin contracts also include unlimited texts along with a mobile data allowance and an allowance of minutes. Panther and iPhone plans both offer unlimited texts, free minutes and a data allowance. Finally, Camel contracts offer free international minutes to selected countries.
All Orange SIM only plans can be further customised by adding Extras.
Orange Pay As You Go (PAYG) Tariffs
Orange's Pay As You Go tariffs are built around their 'animal packages' theme, with different packages designed to suit different types of users. There are five different animal packages to choose from, some of which confer additional benefits when a minimum top up is made and some of which have automatic benefits.
The five available Orange PAYG animal packages are Monkey, Dolphin, Canary, Racoon and Camel. The Monkey tariff is designed for music lovers and provides free music downloads to customers with some top ups. The Dolphin tariff provides a mobile data allowance and free text messages with top ups, while the Canary tariff offers free minutes and texts as well as free evening and weekend calls to customers who top up over a given amount. Instead of giving bonuses along with top ups, the Racoon tariff simply offers the lowest standard call rates from Orange, and the Camel tariff has special international rates and free international minutes.
Pay As You Go customers can purchase 'Extras' to add a mobile data allowance to their tariff.
Transfer Procedure
If you're currently using a different mobile network and wish to move to an Orange contract, it is possible to keep your current number. In order to transfer your number to Orange, you will need to obtain a PAC from your current network. 'PAC' stands for 'Port Authorisation Code' and is a unique code that tells networks that you've given authorisation to move your number.
To get a PAC from your current network, you only need to contact them and request one. Guidelines issued by Ofcom, the UK communication industries' regulatory body, state that when requested networks should provide you with a PAC either immediately over the phone or within two hours by text message.
You can obtain a PAC either before or after you begin a contract with Orange, but bear in mind that each PAC is only valid for 30 days after it's issued. If you obtain a PAC beforehand, you can provide it while setting up your new contract and Orange will automatically begin the transfer process. If you set up a contract before obtaining a PAC code, you can obtain one later and contact Orange to transfer your number. In either case, you'll receive a temporary new number from Orange, which will be replaced by your old number once the transfer process is complete.