Sky is a brand synonymous with satellite broadcasting in the UK, and particularly with a focus on movies, sports and shows that you couldn't find anywhere else. Sky Mobile is relatively fresh as a mobile network operator, having formed as an MVNO in 2016, but hit the ground running with a series of appealing pay monthly phone contracts and plans. Sky Mobile piggybacks off the O2 network, meaning it features impressive network coverage of up to 99% of the population covered for 4G services and a rapidly expanding 5G network that aims to have the whole country covered for 5G data packages as rapidly as it did its 4G services. Thanks in part to its experience as a major TV and broadband provider, Sky Mobile also offers mobile broadband services on top of its pay monthly, pay as you go and sim only phone deals.
As the O2 5G coverage expands, so does the variety of Sky Mobile 5G unlimited data contract offers. Because of its unique position as a broadcaster, Sky Mobile is also in the ideal position to offer customers opportunities for Sky services such as Sky Sports, Sky Arts and Sky Atlantic. The superfast download speeds that 5G services provide mean that streaming these kinds of services is even more seamless, with higher network latency meaning less buffering and even more customer enjoyment of mobile streaming services. The 5G handsets from iPhone, Samsung and Sony can make the most of these services with their superfast processors, 5G capability and award-winning HD displays. Thanks to Sky's Data Roll service you can also roll over any unused 5G data for up to three years.
Just because Sky is a broadcasting giant doesn't mean that you can't find cheap Sky Mobile deals in its contract catalogue. In fact it's quite the opposite. Sky Mobile might feature iPhone and Samsung phones as its flagship handsets, but they also offer Huawei, Fairphone and Nokia contracts on which you can find decent deals. These manufacturers' handsets are all available on  monthly plans, with Sky Mobile offering several contracts for under £10 per month. These kinds of contract offers put Sky Mobile in direct competition with their MVNO counterparts like Giffgaff and VOXI. If you are already a Sky TV or broadband customer you can find further ways to save on your mobile plan thanks to Sky's multi platform reach.
The ultimate way to save money on a mobile contract is through one of the many Sky Mobile sim only deals the MVNO features in its range. Without the need to spread the cost of a new handset across the monthly contract, sim only offers let you simply pay for the data you need. Sky Mobile features sim only data contracts for under £10 per month, as well as more comprehensive packages that move up through the gears. The kind of Sky Mobile sim only contract you require is simply down to your data needs. Are you intending to stream live sports or Netflix shows on your mobile? In which case a sim only package with plenty of data is your best choice. Sky Mobile's Roll offer applies to all of its plans including its pay as you go contracts, which makes it the best network operator for rolling data.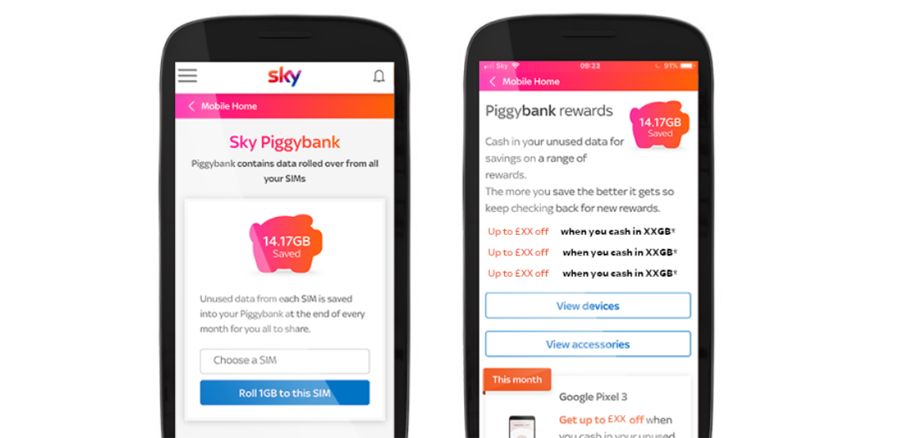 Every new iPhone release creates a glut of pre-orders and a clamour of excitement. Thousands of iPhone fans across the world queue up overnight to get their hands on the best iPhone contracts before anyone else, such is the appeal the brand has built. If you aren't so fussed at camping outside a retail outlet simply to order your new iPhone package you can find some of the best deals here, with Sky Mobile offering a host of iPhone handsets across a number of contract plans. These vary from brand new iPhone handsets on unlimited data plans to iPhone packages on slightly older handsets. No matter what age your iPhone, you can be assured of its build quality and technical excellence.
Finding the best Android packages can be more challenging than finding an iPhone deal to suit your needs, simply because of the variety of different Android manufacturers making top quality handsets. You can find Sky Mobile Android deals from top manufacturers such as Samsung, Sony and Huawei, varying in monthly cost and data allowance. Sky Mobile also bolsters its catalogue with cheap Android deals from Doro, Nokia and Fairphone, giving you superb all round choice when it comes to choosing your next Android phone plan. Sky also regularly includes some promotional deals with its Android contracts, such as cashback offers or free gift promos as incentives to take out a Sky Mobile Android plan.
Sky Mobile Overview
Sky Mobile separates its deals from its contracts and sim only plans, meaning you can find the best Sky mobile deals right from the home page. Sky also splits up its phone contracts from its data plans to maximise flexibility, much in the same way that VOXI and Giffgaff do. To make customers' choices even easier, the cost of Sky sim only data plans are the same as those you take out with any contract. The chances are that you are shopping for either a pay monthly handset plan or a sim only contract, but not both. Having access to such cross-contract cost transparency means that you know exactly where you stand, so if you wanted to add a sim only plan onto your handset contract you know the data costs are the same across both.