Samsung Galaxy S21 is a great android smartphone that is crucially cheaper than most other flagships. Even with its significantly lower price, it offers an impressive display, great performance, and comes in a gorgeous design.
What colours does the Samsung Galaxy S21 come in?
Samsung Galaxy S21 is currently available in four colours, i.e., Phantom Violet, Phantom Pink (with gold rails), Phantom White (with silver rails), and Phantom Gray (with gray rails)
How good is Samsung Galaxy S21's design?
This smartphone shares a number of similarities with its predecessor, Samsung Galaxy S20. Both devices have a very similar front design, characterized by very thin bezels around the display and a punch-hole selfie camera at the top centre. With this device, Samsung opted for flat edges with softly rounded corners other than the curved display of its predecessor. 
We saw the biggest design change at the back of the Galaxy S21. Instead of the typical glass back common with flagships, Samsung went with a plastic back that they refer to as 'polycarbonate'. However, this plastic does not feel cheap at all, and it adds to the grip of the phone.
Samsung Galaxy S21 measures 6 x 2.8 x 0.31 inches and weighs 6.07 ounces. This smartphone is slightly smaller than its predecessor, although it weighs a bit more. You can easily use this device with just one hand, and yet, it's still large enough that you comfortably consume media on this device for hours. 
Samsung has dropped the microSD card slot with this smartphone. This is a shame as your storage is now limited with this device.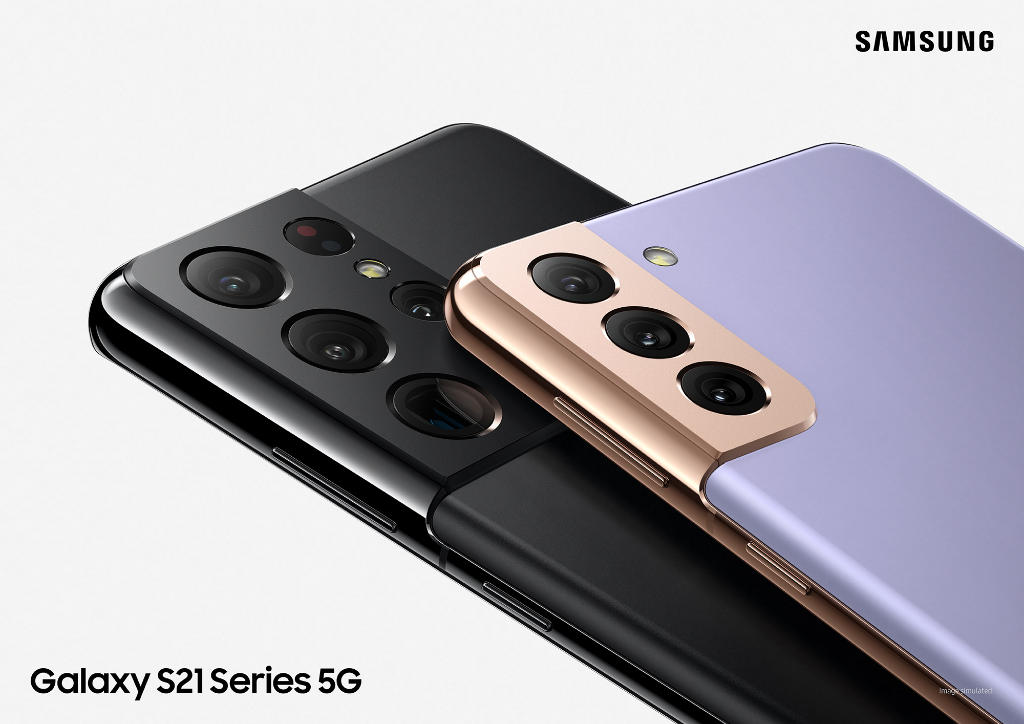 Does Samsung Galaxy S21 have a good display?
Samsung Galaxy S21 comes with a 6.2 inch AMOLED display. Samsung surprisingly "downgraded" the resolution with this smartphone. While Samsung Galaxy S20 has a resolution of 1440p, this new display tops out at 1080p. However, this change is not very noticeable and you'll still get to enjoy a vibrant and beautiful screen. If an ultra-high resolution screen is essential for you, you could check out Samsung's Galaxy S21 Ultra 5G instead, which has the same 1440 x 3200 pixel resolution as the S20 had.
There are also changes with the refresh rate with the Samsung Galaxy S21. It comes with a 120Hz adaptive refresh rate. The device's software will determine what refresh rate is appropriate depending on what you're doing. For instance, if you're mobile gaming, the refresh rate will be 120Hz, while your display will have a lower refresh rate if you're listening to a podcast. This feature helps your smartphone conserve battery power. 
Overall, the display on this device is excellent, even if the drop in resolution from the S20 is a little disappointing.
Is the Samsung Galaxy S21 Camera any good?
The camera module on the Galaxy S21 is exactly the same as what we saw on its predecessor. The camera system comprises three cameras at the back, i.e., the Main 12MP lens (f/1.8), a 12MP ultra-wide sensor (f/2.2), and a 64MP telephoto shooter (f/2.0). You'll also get a 10 MP front-facing camera with this device.
Although the hardware has remained unchanged, Samsung has employed several software and computational photography upgrades to boost the performance of this camera. You can  capture excellent photos and videos using this smartphone's camera. With selfies, you can opt for either the natural or bright mode depending on your preferences. You can also shoot excellent selfie videos in 4K at 60 frames per second. 
With the Samsung Galaxy S21 camera you can either capture 8K videos at 24 frames per second, or 4K videos at either 30 or 60 frames per second. The optical image stabilization (OIS) helps you achieve smooth footage even when you're in motion. 
Is the Samsung Galaxy S21 fast?
Samsung Galaxy S21 runs on the powerful Snapdragon 888 chip. Whether you're multitasking or gaming on your mobile phone, you can expect a smooth, fast, and seamless experience on this device. 
You get 8GB of RAM on this device, with no option to upgrade to 12GB. However, 8GB of RAM is still more than adequate in a smartphone. Internal storage starts at 128GB, but you can choose to pay more for a device with 256GB. 
Does Samsung Galaxy S21 have a good battery life?
The battery capacity on this smartphone is 4000 mAh. While a lot of android flagships come with bigger batteries, Samsung Galaxy S21 still fairs well enough with the smaller battery. 
For environmental reasons, Samsung Galaxy S21 does not ship with a charging brick. You'll only get a USB-C cable with your purchase, and this may mean spending more to achieve maximum charging speeds. This smartphone also supports wireless and reverse charging.
Should you buy a Samsung Galaxy S21?
Samsung Galaxy S21 offers a gorgeous design, an impressive camera, and comes with a powerful flagship chip. This smartphone is competitively priced and it would make a worthy upgrade for someone using an older galaxy phone. However, if you currently own a Galaxy S20, you might not see dramatic improvements from upgrading to this smartphone.