Samsung Galaxy S21 Plus closely resembles the smaller Galaxy S21. This smartphone sports an appealing new design, and offers stellar performance, a gorgeous display, and an impressive camera. 
What colours does the Samsung Galaxy S21 Plus come in?
Samsung Galaxy S21 Plus is available in five colours. You can choose from Phantom Violet, Phantom Black, Phantom Silver, Phantom Gold, and the vibrant Phantom Red. You can only purchase the gold and red smartphones exclusively from Samsung's website. 
Does Samsung Galaxy S21 Plus have a good design?
The front of the Samsung Galaxy S21 plus has a simple and attractive design, similar to its predecessor, Samsung Galaxy S20 Plus. The display is surrounded by very thin bezels and a neat punch-hole selfie camera is located in the top centre of the display. Instead of a curved display, this smartphone sports a flat screen. 
There is a welcome design change with the camera module at the back of the device. Samsung Galaxy S21 Plushas the new "contour cut" design which seamlessly integrates the camera module into the frame of the device. This has significantly reduced the camera bump and resulted in a more attractive and cleaner look. 
Unlike the smaller Samsung Galaxy S21, this smartphone has a glass back which adds to its premium feel. The back of this device does not easily pick up fingerprints and, therefore, it's much easier to maintain a clean device.
Samsung Galaxy S21 Plus measures 6.36 x 2.98 x 0.31 inches and weighs 7.05 ounces. This is a relatively big device and you may need both hands to comfortably use this phone. If you prefer larger smartphones, you're bound to love the Galaxy S21 Plus. 
Samsung has upgraded the fingerprint sensor on this smartphone. The new sensor is faster and more accurate thanks to its larger size.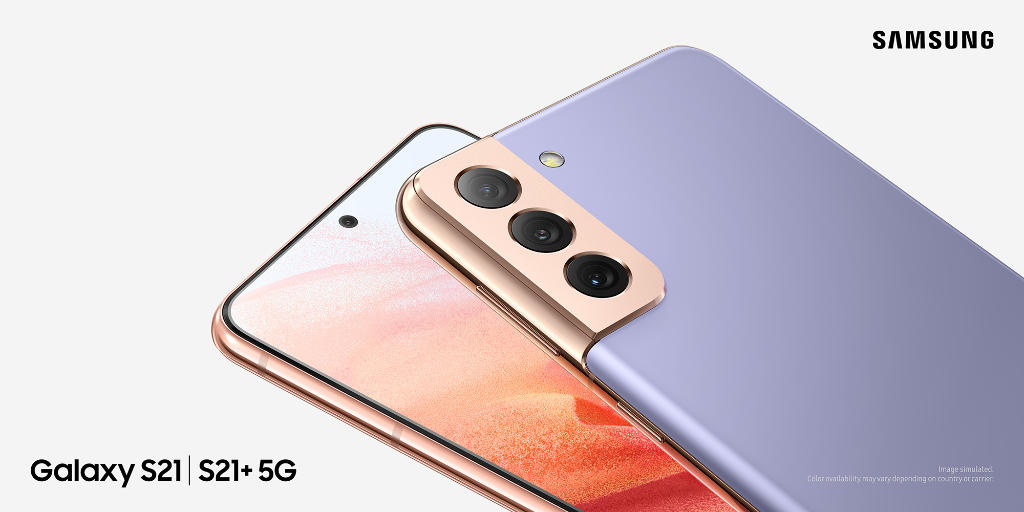 How good is the Samsung Galaxy S21 Plus Display?
Samsung Galaxy S21 Plus comes with a large 6.7 inch AMOLED display. This device comes with a lower full HD+ resolution, compared to the QHD+ resolution  on its predecessor. This downgrade in resolution is barely noticeable and the display still looks excellent. 
You can choose to use a refresh rate of 60 Hz on your smartphone or you can opt for the adaptive mode. The latter will automatically vary your refresh rate between 48Hz and 120Hz depending on your current activity. Locking the display at 60Hz has the benefit of extending your battery life. 
Overall, the Samsung Galaxy S21 Plus screen is colourful, bright, and vibrant.
Is the Samsung Galaxy S21 Plus camera any good?
Samsung Galaxy S21 Plus has a camera system comprising three back cameras and a 10MP selfie camera. At the back of your smartphone you'll find a 12 megapixels main camera, a 12 megapixels ultra-wide shooter, and a 64 megapixels telephoto snapper. 
A combination of this hardware and upgraded software will help you capture stunning shots and footage. Content creators will find the Director's view mode to be very beneficial. This feature allows you to film with all cameras simultaneously. 
With the Samsung Galaxy S21 Plus, you can choose to shoot videos in 8K at 24fps, or 4K at 30 or 60 fps. You can also opt for full HD at 30 or 60fps.
Is the Samsung Galaxy S21 Plus fast?
If you reside in the US, your Samsung Galaxy S21 Plus device comes with a powerful Qualcomm Snapdragon 888 chipset. Non-US versions of the Galaxy S21 Plus use Samsung's Exynos 2100. This smartphone is very fast, and it handles challenging tasks brilliantly. 
In addition to the powerful chipsets, Samsung Galaxy S21 Plus comes with 8GB RAM. Although you can't upgrade to 12GB RAM, the Galaxy S21 Plus still performs impressively and will smoothly see you through your day-to-day tasks.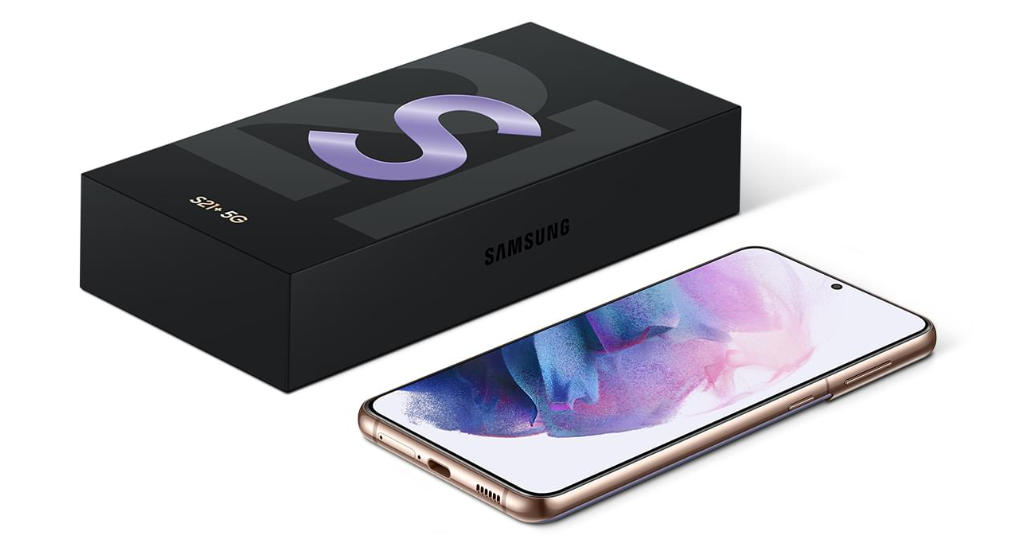 Does the Samsung Galaxy S21 Plus have good battery life?
This smartphone comes with a capable 4,800 mAh battery that offers excellent battery life. However, Samsung have opted not to ship the Samsung Galaxy S21 Plus with a charging brick. To achieve the maximum charging speeds of 25W, you may need to purchase a charger if you don't already own a suitable charging brick. This smartphone also supports wireless and reverse charging. 
Should you buy the Samsung Galaxy S21 Plus?
If you like the Samsung Galaxy S21 but find it to be too small, the Galaxy S21 Plus will be ideal for you, since they share the same look. The Galaxy S21 Plus is the larger version of the Galaxy S21. If you're interested in an even larger smartphone, you should take a look at the Samsung Galaxy S21 Ultra.
Samsung Galaxy S21 Plus is also a good choice if you're in the market for a powerful and impressive Android phone.